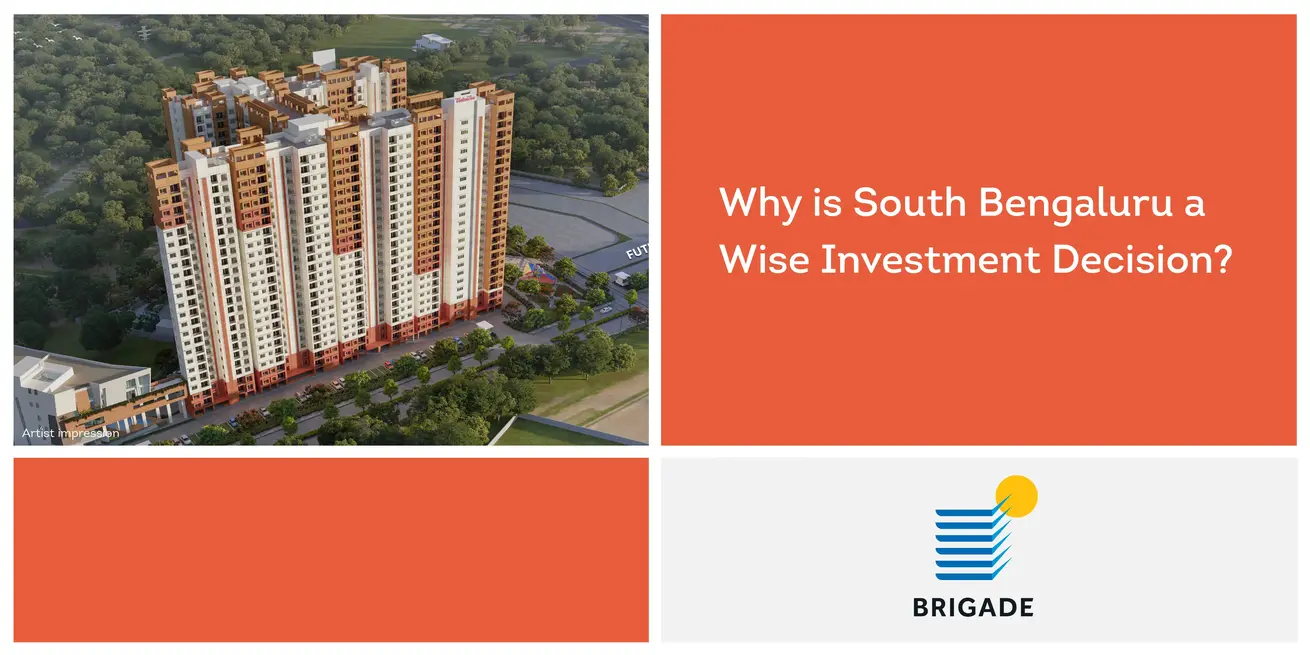 21st July 2023
Why is South Bengaluru a Wise Investment Decision?
The ongoing IT boom and infrastructure growth are contributing to the real estate value of the Silicon City of India. However, these are not the only factors driving the real estate worth of Bengaluru.
The southern quadrant of the city is one such area that perfectly combines the old city charm and modern-day infrastructure. With its strategic location, robust infrastructure, flourishing commercial sector and tranquil neighbourhoods, South Bengaluru presents a compelling case for a wise investment.
A Cultural Hotspot
Beyond the bustling business centres lies South Bengaluru, a melting pot of diverse cultures and traditions.
Bangalore Fort, built by Kempe Gowda, is reminiscent of Indo-Islamic architecture. Prominent landmarks such as Raghavendra Temple, Ragigudda Temple, Banshankara Temple, Anjaneya Swamy Temple, Bull Temple, Kadu Malleshwara Temple, Dodda Ganesha Temple, Meenakshi Temple, Venkateshwara Temple at Mahalakshmi Layout, Jamia Masjid and Salvation Army Church form the vibrant cultural tapestry of this area.
Rangashankara, a renowned theatre destination, is a delight for art lovers. The vibrant cultural hub hosts a diverse range of plays, performances and workshops, showcasing the rich heritage of Indian theatre.
The Basavanagudi neighbourhood bustles with markets selling traditional trinkets. The shopping areas in Gandhi Bazaar sell an assortment of silk sarees, handicrafts, spices and fresh produce.
A Foodies' Hub
As a cosmopolitan city, South Bengaluru has embraced diverse cultures of people from across the country with open arms and food is a vital part of it.
The locale is populated by trendy cafes, bistros and fine-dining establishments that serve multiple Indian cuisines and international delicacies. Whether you are craving Italian pasta, Mexican tacos or Japanese sushi, you can find it all within the locality.
Areas such as Koramangala, in particular, are a foodie's haven with an array of eateries and lets you explore diverse culinary cultures and happening nightlife.
Basavanagudi is dotted with restaurants such as the famous Vidyarthi Bhavan, Mavalli Tiffin rooms, VV Puram food street and many more that satiate your appetite for local and Satvik cuisine ringing in the old city charm.
Seamless Connectivity
A well-maintained network of roads and metro lines connect the south of Bengaluru to all the prominent parts of the city. Arterial routes such as NICE Road, Outer Ring Road and Sarjapur Road connect areas in South Bengaluru to significant locations like MG Road and Hebbal, which are the gateways to some of the busiest employment centres of Bengaluru.
Bannerghatta Road forms a crucial segment of State Highway 87, facilitating seamless connectivity between South Bengaluru and the neighbouring areas of Jigani and Anekal. For frequent travellers heading to the nearby district, the convenient route to take is the Hosur Road.
The upcoming Namma Metro green line spanning across Silk Board and Electronic City will reduce the commute from South Bengaluru to the rest of the city. Further, the metro line from Kanakapura Road to Nagasandra in North Bangalore will ease travelling throughout the city.
A Residential Hotspot
The rise of South Bengaluru as a favourable residential destination is attributed to the significant infrastructure development, ample green cover, proliferation of well-planned and luxurious apartment complexes and the happening socio-cultural scene.
It is an ideal destination for homebuyers who prefer to avoid the din and bustle typical of the city centre while accessing all the urban amenities. Prestigious educational institutions and medical centres providing top-notch healthcare heighten the area's appeal as a residential hub.
Areas like Jayanagar, JP Nagar, BTM Layout and Bannerghatta perfectly blend tranquillity and urban convenience. The localities feature spacious independent houses, villas and apartments, attracting homebuyers looking for a balanced and harmonious living experience.
Located in Electronic City, Brigade Valencia is a much anticipated residential enclave. This apartment series's unique selling price (USP) is its layout and design elements that draw inspiration from the vibrant lifestyle of the Spanish city of Valencia, promising residents a truly delightful living experience.
Conclusion
There is no more arguing that investing in a property in South Bengaluru will reward you with great returns. However, it is essential to conduct thorough research, consult with experts and carefully analyse market trends before making investment decisions.