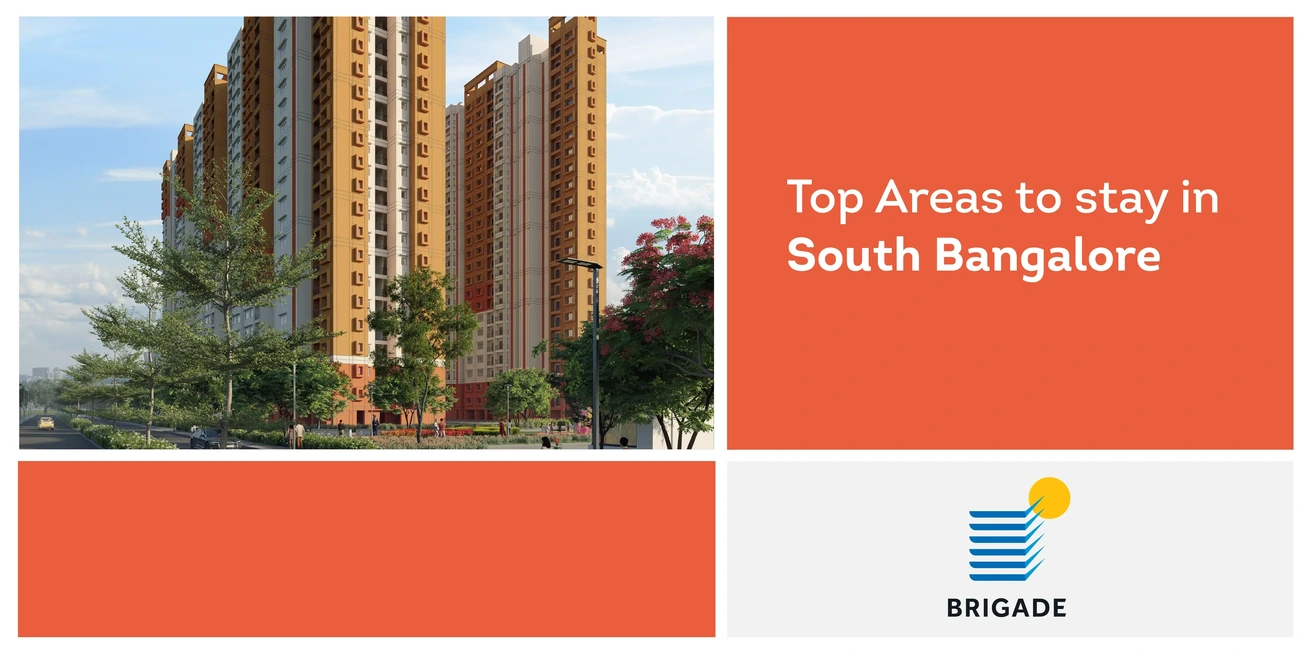 07th July 2023
Top Areas to stay in South Bangalore
The southern quadrant of Bengaluru is the most sought-after location that strikes the right balance between urban convenience and a peaceful neighbourhood.
South Bengaluru has a charm of its own with rich heritage, burgeoning infrastructure development and emerging start-ups. The presence of temples, tourist sites, upscale shopping complexes, excellent social infrastructure and lush green surroundings adds to the appeal of this place, making it a prime choice for residents.
In this blog, we will explore the top areas where people prefer to invest in South Bengaluru:
Electronic City
Known as a significant IT corridor, Electronic City is a favourite among home buyers. It provides an ideal setting for residents due to its meticulously-designed infrastructure, wide roads and abundant amenities.
The well-structured transportation system has greatly improved Electronic City's connectivity to key areas of the city. The elevated expressway, NICE Ring Road, Heelalige railway station, Hosur Road, and the upcoming Line 4 (RV Road to Bommasandra) of Namma Metro Phase 2, among others, will significantly enhance commuting to and from this area.
Reputed educational institutions like DPS Electronic City, ISBR Business School, shopping complexes such as Gopalan Innovation Mall, and healthcare centres like Ramakrishna Smart Hospitals in the vicinity make living extremely convenient, functional and happening in Electronic City.
Brigade Valencia in Electronic City is touted as the next big thing in the residential enclave space. Its overall layout and design feature anecdotes of the flamboyant lifestyle of the Spaniards in far Valencia, which makes for a blissful living experience in this series of luxury apartments.
HSR Layout
Well-maintained civic amenities such as broad roads, drainage systems, and parks, along with scores of promising business start-ups and continuous infrastructure development, have earned HSR Layout a spot in the list of most favoured residential areas in Bangalore.
The extensive transportation network significantly enhances the real estate value of this locality. BMTC buses run frequently, making commuting easy and affordable for people with offices in Kadubeesanahalli, Marathahalli and the adjoining areas. Carmelaram railway station is the nearest at a distance of 9.4 km. Kempegowda International Airport can be easily accessed via NH-44 and NH-75 or Bellary Road. The under-construction Phase 2 Metro Line 3 will further improve the connectivity of the HSR Layout to the rest of the city.
Prominent educational institutions like Oxford College, NIFT, and multi-speciality hospitals such as Manipal Hospital and Narayana Multi-specialty Hospital, among others, adds to the real estate value of HSR Layout.
Kanakapura
Recently, Kanakapura Road has garnered considerable attention among home buyers and investors because of its upward-spiralling real estate value. To the delight of city dwellers, Kanakapura Road's topography has a queer juxtaposition of dense patches of greenery, lakes, glitzy malls, wide roads and flyovers.
Kanakapura Road enjoys excellent connectivity to various essential road networks in Bangalore. The locality enjoys convenient links to the NICE Road (Bangalore-Mysore Infrastructure Corridor). The upcoming Peripheral Ring Road (PRR) will connect it to important highways like Mysore Road, Hosur Road, Old Madras Road and Tumkur Road.
Furthermore, the Green Line of Namma Metro has been extended to Kanakapura Road. This 6.5 km stretch comprises five operational stations and was completed by the end of 2018.
The area is ideal for families to settle due to the presence of prestigious education centres like Orchids International and renowned multi-speciality healthcare hubs such as Apollo and Fortis. Additionally, the proposed Krishna Lila theme park, spread across 28 acres of Vaikuntha Hill, will be the crowning jewel of Kanakapura Road.
Banashankari
Despite the rapid urbanisation of Namma Bengaluru, some sections of the city retain its rustic charm, and Banashankari is one of them. It adds to the uniqueness of this place. The excellent intra-city connectivity is the trump card of this area, placing it among the most highly favoured residential projects.
Banashankari, divided into six stages, facilitates excellent accessibility to Mysore Road, Kanakapura Road, Girinagar, Rajarajeshwari Nagar and other areas that house numerous companies. Its proximity to prominent employment hubs such as the Global Tech Village in Electronic City, Kanakapura Road, Jayanagar and Koramangala makes it an exceptionally convenient place to reside for working professionals.
BMTC bus network is one of the pros of Banashankari, with the Bengaluru City Junction railway station located approximately 6 km from the place.
Conclusion
South Bengaluru provides a diverse range of neighbourhoods, each with its unique appeal. Whether you seek a tranquil environment, a vibrant social scene, favourable connectivity to employment hubs or easy access to amenities, South Bengaluru has it all. From the streets of Banashankari canopied with trees to the glitzy malls of Kanakapura Road, the bustling tech parks in Electronic City, and the emerging landscape of HSR Layout, each area offers a distinct living experience.