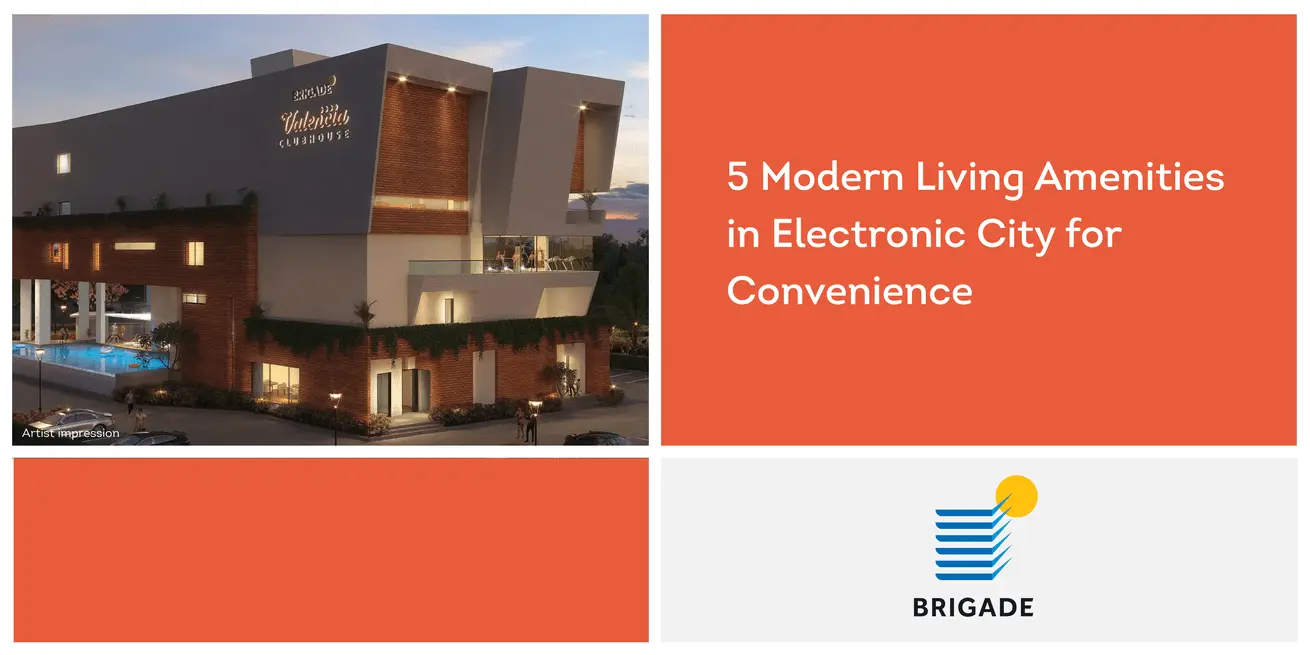 19th September 2023
5 Modern Living Amenities in Electronic City for Convenience
Electronic City, located in the bustling metropolis of Bengaluru, is a thriving hub for the technology industry. But beyond its corporate façade, the area is home to a multitude of social amenities, making it a fantastic place to settle and have an all-round living experience. In this blog, we will explore five upscale facilities that make Electronic City a preferred choice for homebuyers.
Cutting-Edge IT Infrastructure:
Electronic City is synonymous with technological innovation. It boasts an impressive array of IT parks and tech companies, making it a magnet for tech professionals seeking to advance their careers. Industry giants like Infosys, Wipro and HCL Technologies provide a wealth of employment opportunities, ensuring a steady influx of skilled talent. State-of-the-art research facilities and modern office complexes continue to draw multiple tech enthusiasts to Electronic City. Reportedly, over 500 acres of land in Hosur will be transformed into a self-sustaining "tech city", housing IT/ITES companies and global capacity centres. The development will have a simultaneous employment boom in Electronic City as it connects well with the area via Hosur Road.
A thriving locality needs a place for its residents to call home, and Electronic City delivers on that front. The area is dotted with residential complexes and apartment communities that cater to various preferences and budgets. Brigade Valencia is one of the preferred luxury apartments located near Electronic City. Spread across 24 acres, the overall decor of the property is inspired by the Spanish lifestyle in Valencia. Brigade Valencia features 2, 3 and 4-bedroom apartments.
These housing options are equipped with modern amenities, including swimming pools, well-equipped gyms and serene green spaces. Living in Electronic City means you are not just close to work but also enjoy a comfortable and upscale lifestyle.
Retail Therapy:
The entertainment options present in Electronic City enable residents to restore their work-life balance after a week-long grind. Multiple shopping malls cater to the need for retail therapies of people residing in the area. Whether you are looking for groceries, fashion, electronics or entertainment options all under one shed, places like Neo Mall and The Forum Neighborhood Mall have got you covered.
A Bright Future for Young Minds:
Families with children will find Electronic City a nurturing environment for their kids' education. The area is home to reputable schools and colleges like PES Institute of Technology and Christ Academy ICSE school, providing world-class tutoring. These institutions are known for their commitment to academic excellence, helping young minds thrive and achieve their full potential.
Healthcare Amenities
Healthcare is a top priority for any community, and Electronic City does not disappoint. The area houses a range of prominent healthcare facilities, such as Narayana Institute of Cardiac Sciences and Sparsh Hospital, to cater to residents' medical needs. You will find top-notch clinical services from routine check-ups to advanced medical treatments here.
In conclusion, Electronic City is not just an IT hub but a thriving community where convenience meets modern living. With its world-class IT infrastructure, top-tier residential projects, vibrant retail scene, excellent educational institutions and reputed healthcare facilities, it is a city within a city, offering everything you need for a fulfilling and balanced life.
Whether you are a tech professional looking for your next career move or a family seeking a safe and nurturing environment, Electronic City has something to offer everyone. It is a place where innovation and well-being coexist, making it one of Bengaluru's most sought-after destinations.