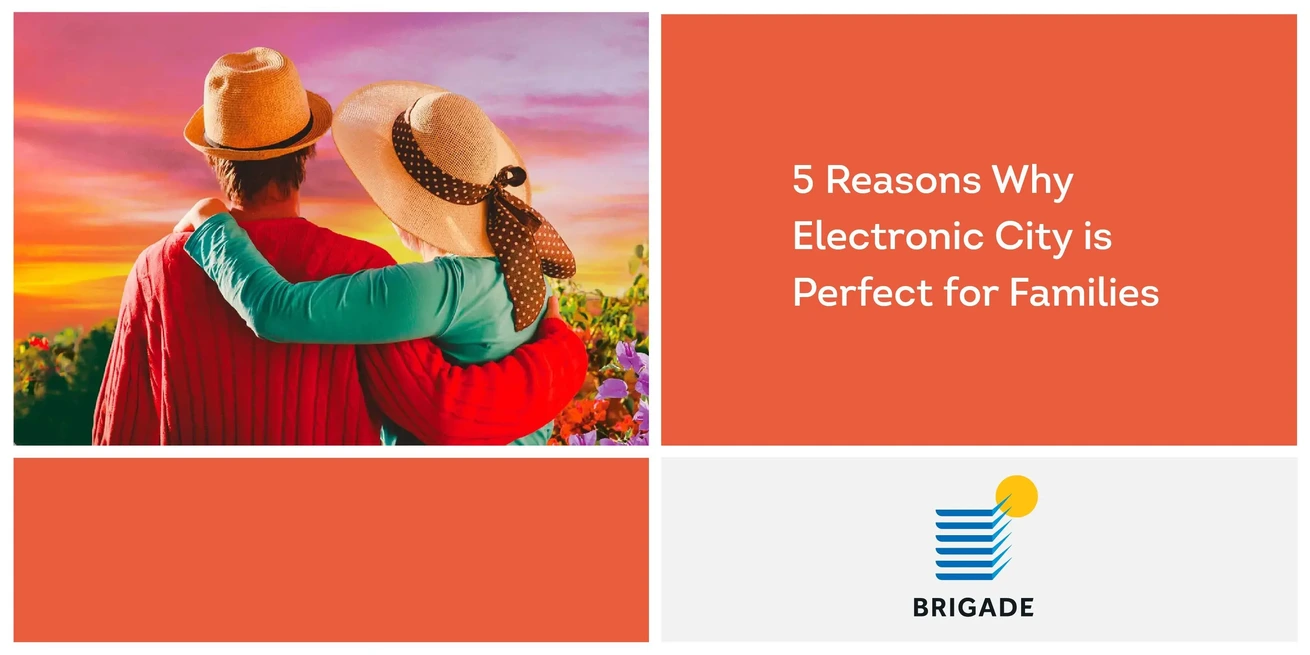 18th May 2023
5 Reasons Why Electronic City is Perfect for Families
House hunting becomes a different ballgame when your family comes into the equation. After all, you are giving them a home that will influence their day to day lives in many ways. It is for a fact that luxury and convenience go hand in hand in delivering an urban family's varied home expectations.
Location plays an undeniable role when searching for the perfect square footage. This factor makes an apartment in Electronic City an ideal choice.
Located in South Bengaluru, Electronic City is a bustling neighborhood that has emerged as a popular residential area, especially for families. Prominent builders like Brigade Group have unveiled themed real estate projects like Brigade Valencia. These apartments appeal to all members of the family with different lifestyles. It works as a charm for homebuyers. With the upcoming premier apartment enclaves, Electronic City is the most preferred option for people with families.
5 Reasons Why Electronic City is Makes for an Ideal Place to Reside with Family
1. Better Connectivity
Long commute time during peak office hours is a common agony for all Bangaloreans. It robs them of the time they could have spent bonding with their loved ones at home.
Electronic City has easy access to the city's major highways and expressways. It significantly cuts down travel time. The NICE Road, which runs through Electronic City, connects it to all the major parts of Bengaluru, such as Bannerghatta Road, Mysore Road and Kanakapura Road. This means getting to other parts of the city will be easier without traffic woes.
The location is well-connected to the city's public transport system. BMTC buses and AC Volvo buses run regularly from Electronic City to various parts of Bengaluru. The locality also has its metro station, the Electronic City Phase 1 station, which is part of the Namma Metro's Green Line.
2. High Return on Investment
A house is a tangible asset that you can capitalize on as a potential source of rental income. Location plays a key role in adding value to your asset.
HomeBazaar.com hints at a steady upward trend of realty market value in Electronic City through 2023, making it a promising real estate investment destination.
In recent years, Electronic City has seen several infrastructural developments and is on the cusp of witnessing more, making this a self-sustaining valuable location. In addition, high rental rates add to the financial viability of properties in this location.
3. Top-Notch Residential Properties
Electronic City is home to premium apartment enclaves like the Brigade Valencia Project. The properties are not just aesthetically pleasing but are also very well-maintained.
The family-friendly ambience, along with abundant urban amenities and facilities, make these properties worth staying with people who matter in your life.
4. Home to Employment Hubs
The place is a magnet for families as it is home to big names in the technology industry, such as Infosys, Wipro, and Tech Mahindra.
Along with IT companies, Electronic City is also known to have several mid-level and start-up ventures across various industries, such as digital marketing, manufacturing etc. It creates massive employment opportunities, prompting people to seek apartments in Electronic City, such as Brigade Valencia to settle with their near and dear ones.
5. Reputed Educational Institutions
Every parent hopes to get their children admitted to the most prestigious educational institution. However, the thought of traveling a long distance to reach the destination often compels them to compromise on their dream.
Electronic City is home to some of the best educational institutions in Bengaluru. It includes schools for both preliminary and higher education. The institutions you will find at this location include VIBGYOR, Ebenezer International School, Xavier's Institute of Management and Entrepreneurship (XIME), and Aziz Premji University.
The best way to ensure that your family is happy and comfortable in their new home is by choosing a neighborhood with everything that addresses your personal and family needs. Electronic City is a town with all the amenities and infrastructure, making this place a great residential destination for families.
Discover the exceptional offerings from Brigade Group, including Brigade Calista for a vibrant downtown living experience and excellent connectivity, and Brigade Oasis, the coveted plotted development in North Bengaluru.