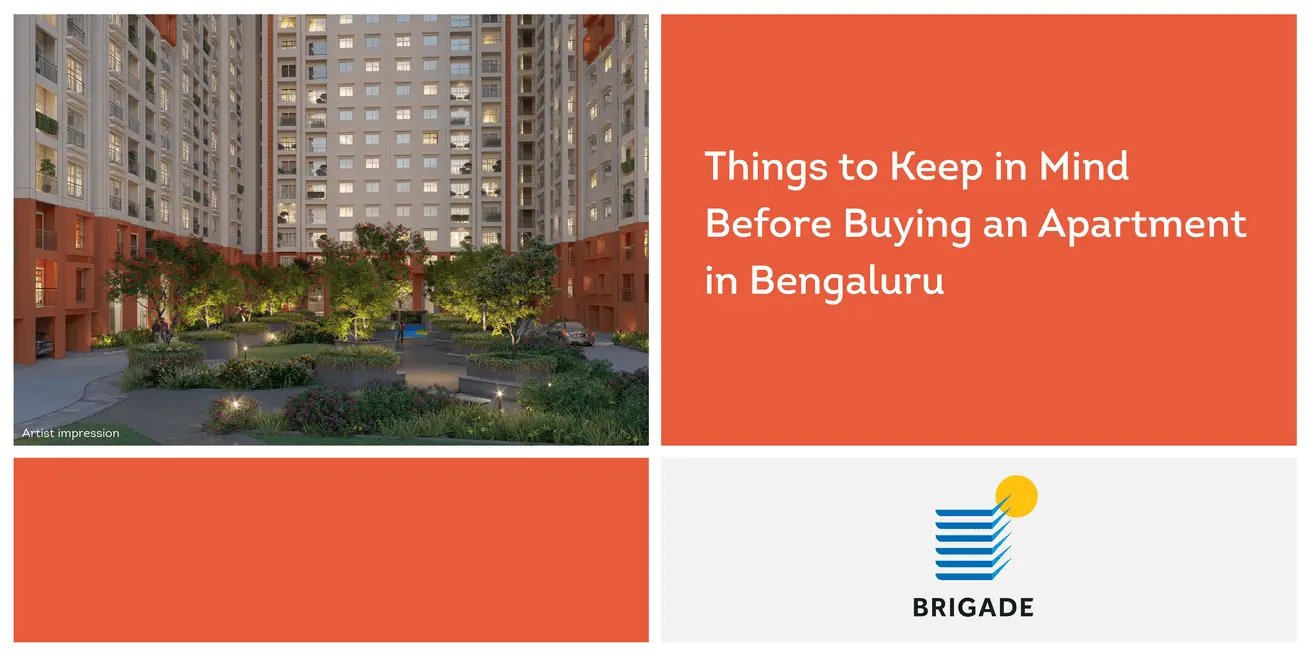 18th August 2023
Things to Keep in Mind Before Buying an Apartment in Bengaluru
Buying property in Bengaluru, be it a plot or an apartment, is a lucrative real estate investment considering the massive economic growth of the city. However, finding the perfect home that ticks all the right boxes can be daunting.
The city has multiple housing options sprouting up regularly, each promising better living experiences than the other. It is easy to get swayed by so many choices and make a wrong investment decision that can have lifetime financial implications for you.
Here are some factors you should consider when you decide to make a real estate investment in Bengaluru.
Decide Your Budget
Many times, homebuyers tend to start looking for an apartment before getting clarity on their budget. Doing so mostly leads them to properties that either do not suit their financial capability, or they resort to every means to arrange the extra sum. Both situations lead to a real estate investment that is financially straining.
With meticulous financial planning, get an understanding of your monthly expenses, existing financial liabilities and monthly savings. Fix your budget based on the insights and start searching for apartments accordingly.
You must ensure that your housing budget does not deplete your entire salary and savings for the future.
Buy the Apartment Based on Location
The neighbourhood should be a critical factor in your homebuying journey in a city like Bengaluru. People are left with very little hours to spend at home as they suffer prolonged commuting time owing to traffic bottlenecks.
Choose a location with a robust transportation system, like a metro station, a wide network of roadways and bus services. For Instance, Brigade Valencia is strategically located in Electronic City has excellent connectivity and amenities.
Bengaluru suburbs are some of the emerging residential areas owing to their excellent connectivity to the core parts of the city through metro lines and roadways. The transportation infrastructure in these areas has significantly reduced commuting time for people.
Checking all the paperwork while buying an apartment is extremely important to avoid getting caught in legal tussles. It ensures that the builder has the ownership rights to sell the property. Here is a list of documents you must check before signing the deal with the builder:
1. Documents such as a title deed proving your ownership of the property.
2. Paperwork pertaining to the ownership history of the property.
3. Parent deeds including allotment letters, selling deeds, gift deeds and division deeds, among others.
4. Documents proving the authorisation of builders by the local governing bodies such as Bruhat Bengaluru Mahanagara Palike (BBMP) and the village panchayat to undertake construction works.
5. Khata extract or Khata certificate proving the property transfer from the BBMP.
6. Encumbrance Certificate recording all the transactions, such as a mortgage, lease, sale, etc., conducted during the purchase process.
7. Tax receipts pertaining to the property.
8. The propounded Prohibition of Transfer of Certain Lands Act (1978) approval from the Tahsildar guaranteeing that the property is not owned by scheduled caste or scheduled tribes.
Research on Builder
The reputation of builders has a direct impact on the resale value of your apartment. It warrants thorough research about them so that you make a safe and a profitable real investment decision.
Get information about your prospective builder's previous projects. It will help you get insights into the construction quality and timeline adherence.
100% transparency underpins a safe real estate investment and a satisfactory homebuying experience. Ensure that the developer provides you with upfront information about the status of obtaining all the necessary approvals and permits from the local authorities.
Check Whether it Aligns with Your Family Requirements
It is crucial to consider your family's unique needs and preferences to ensure that they feel comfortable and content at home.
Proximity to eminent educational institutions is of paramount importance for families with children. For adults, closeness to workplaces and social amenities such as hypermarkets, shopping malls, etc., is highly preferred to experience minimal commuting time.
Seek apartments in neighbourhoods known for their sense of community, where residents engage in socialising and look out for each other.
Conclusion
Property investment in Bengaluru requires careful consideration of various factors. Considering the location, budget, builder's reputation, legal aspects and community will help you to arrive at a thoroughly informed decision. With the right approach, you can find your dream apartment in this vibrant city and enjoy a fulfilling living experience in Bengaluru.