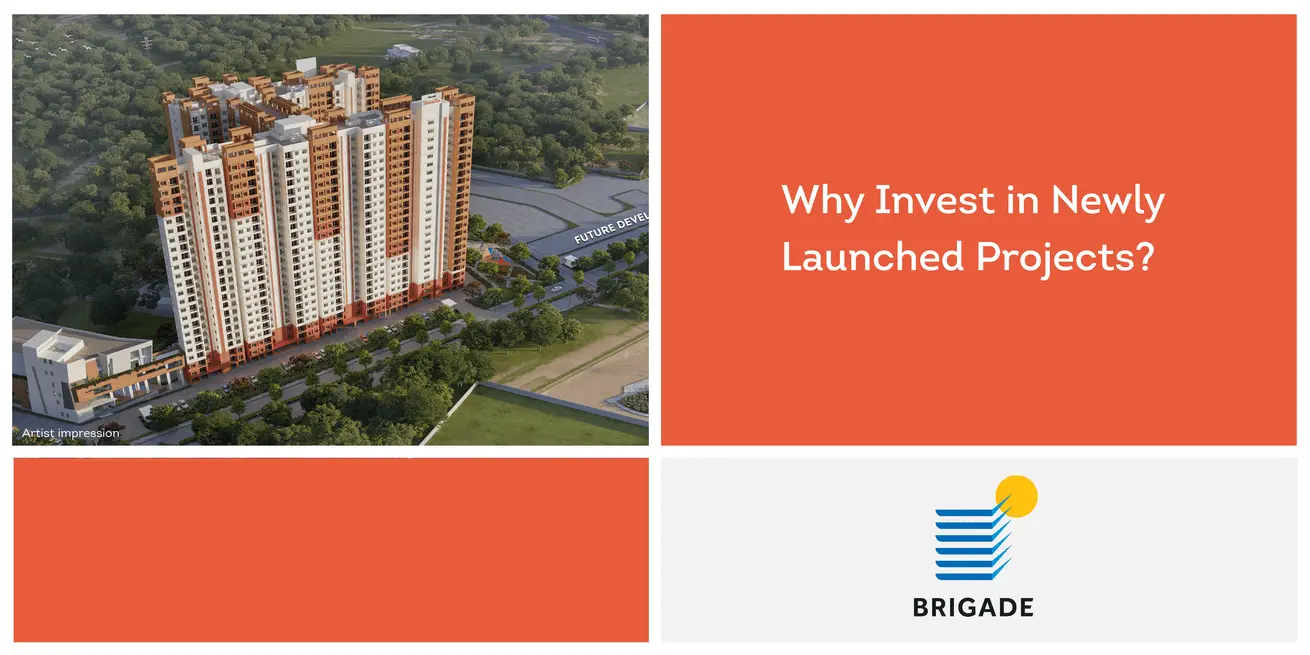 04th September 2023
Why Invest in Newly Launched Projects?
Rating agency ICRA Limited predicted a steady demand for residential properties through 2024. It states in its March 2023 research report that the housing sector will witness about 16% sales growth in 2024 thanks to the sustained purchase spree of homebuyers.
The report reinforces the position of India as a positive price-appreciating housing market. It is interesting to note most buyers prefer to invest in real estate especially in new upcoming projects to capitalise on this market.
In this blog, we will outline some of the reasons to justify the trend of buying under-construction projects.
A Cost-effective Option
An immediate benefit of pledging your funds at an early stage project is the cost advantage. Usually, the ownership cost of an under-construction apartment is 10-30% less than a ready-to-move house. The lesser value is generally attributed to the absence of furnishings and fixtures.
The Government of India-sponsored tax benefits make investing in new-launched housing projects lucrative. Section 24B of the Income Tax Act of 1961 assures up to INR 2 lakh tax benefit every year deducted from taxpayers' home loan's interest rate.
Easy Options to Pay
With a finished project, you pay the entire amount in one go, including registry and additional documentation expenses. Buyers enjoy the benefit of adaptable payment plans when dealing with a property still under construction. They are obliged to remit as little as 10-20% of the total amount due upon booking.
Builders provide a range of payment options based on the project's projected completion date. It buys people time to prepare for the final payment. Other settlement options, such as subvention schemes and early-bird discounts are advantageous for homebuyers.
Customise As Per Your Preferences
An under-construction property is like a blank canvas that you fill with colours per your aesthetics. You can personalise the room configurations to align with your comfort and needs. Adjusting the apartment's fundamental structure is less daunting than in the post-launch phase.
You can select wall paints, flooring and furniture options to create a home decor as you envisioned.
Future Capital Gains Potential
Purchasing a property still under construction results in a substantial return on investment. This is because of the prolonged time gap between the initial buying phase and the projected completion date. You may get double your initial investment if you decide to sell the property around the time of possession.
Location is also a critical factor that increases the price of work-in-progress housing complexes. The steady development of the transport system enables good connectivity across the area. It skyrockets the property value in no time. Chances are the resale value of the property triples than what you have initially invested.
Brigade Calista is an under-construction property projected to undergo price appreciation owing to its location near Budigere Cross. The residential property has completed phase 1 and launched phase 2, offering 2 & 3-bedroom apartments. It is one of the emerging areas in Bengaluru owing to its proximity to tech hubs and connectivity. The strategic location of Brigade Valencia in Electronic City will bring the residents close to some of the major tech parks and a happening social infrastructure.
Conclusion
From the potential for high returns and customisation options to tax benefits, these projects offer many advantages. However, like any investment, conducting thorough research, assessing risks and seeking professional guidance before deciding is crucial. If approached wisely, investing in newly launched projects can be a pivotal step toward building a solid and diversified investment portfolio.