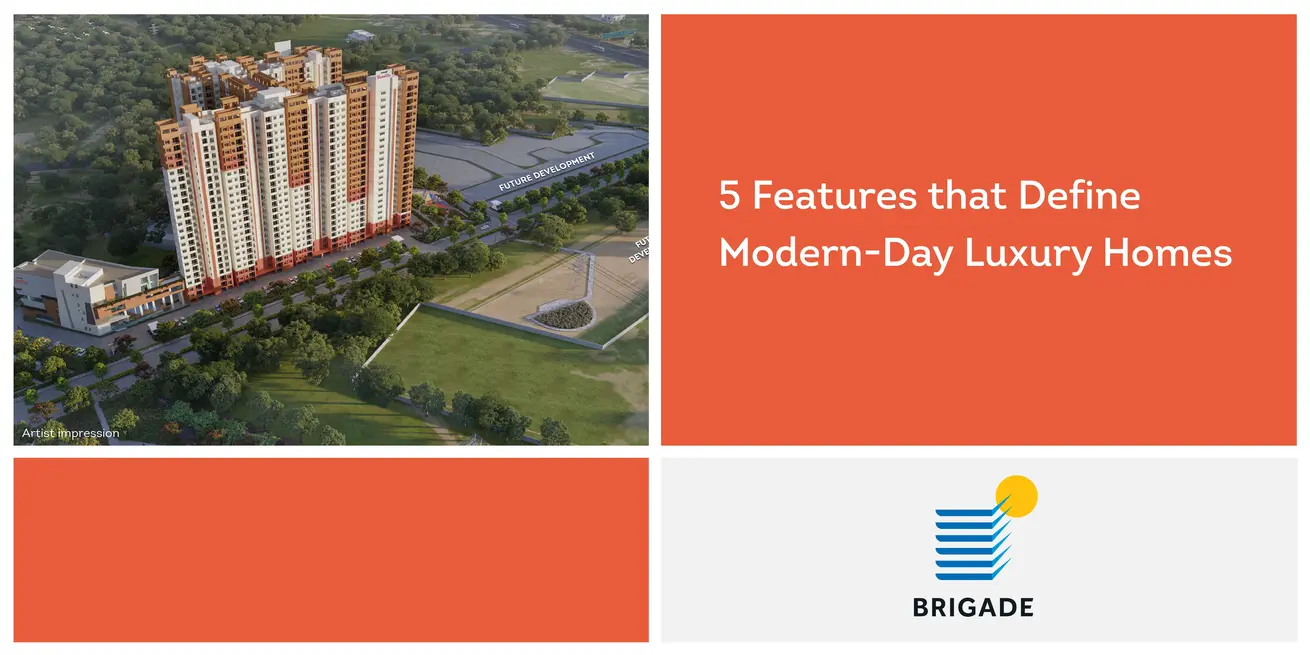 18th August 2023
5 Features that Define Modern-Day Luxury Homes
There was a time when having a pool and a gym qualified a residential project to be dubbed as a luxury property. As time went by, people's perceptions of luxe living changed. Apart from a well-appointed gym or a swanky swimming pool, smart home technologies and avant-garde architecture, among others, make for a luxury real estate project.
This blog highlights the top five features of luxury homes in India.
1. Walk-in Closets
Residents seek a convenient way to flaunt their expensive threads during social gatherings. The preference made walk-in closets a must-have in luxury homes.
However, it is also about the feature's convenience and storage space. Walk-in closets are a practical concept that lets you organise and store a larger number of items.
With customisable designs, these closets can be tailored to complement the overall look of your home. The exquisite appearance they provide adds a touch of luxury and elegance, making a significant impact on your living space.
2. Conceptual Architecture
A unique design is a luxury feature and an essence of modern living. It encompasses innovative design principles, sustainable practices and harmonious integration with nature.
Conceptual architecture involves homes that blend seamlessly with the surrounding landscape, minimising their ecological footprint. Large windows and open spaces allow ample natural light to flood the interior, reducing the need for artificial lighting during the day.
Blurring the lines between art and architecture is central to the concept of avant-garde architecture. Sculptural elements, colour schemes, floor layouts inspired by far and wide culture, etc., add a layer of sophistication that resonates with art enthusiasts and design connoisseurs alike.
Brigade Valencia deserves mention in this respect. Located in Electronic City, the architecture of this luxury apartment series is inspired by the flamboyant culture and spirit of the Spaniards in Valencia.
3. Security Features
Robust security features distinguish upscale residences from standard homes. Ensuring utmost safety and protection against unwanted attention and burglaries, these luxury apartments have cutting-edge amenities such as smart locks, CCTV cameras, and safety alarms for fire, floods and break-ins.
Additionally, robust security measures are implemented at the property entrance, adding an extra layer of protection.
4. Smart Technology Features
Brigade homes take luxury to another level by integrating it with smart home technology, enhancing convenience and comfort in premium housing societies.
From advanced security systems, smart climate control and automated lighting to integrated home theatres and sophisticated entertainment centres, these houses offer seamless connectivity and control at your fingertips.
5. Outdoor Amenities
The importance of outdoor amenities has grown exponentially as people recognise the numerous physical, mental and social benefits of spending time out of their cosy couches.
Including facilities such as a multipurpose gym, hall, terrace party, play area and convenience store let people achieve their fitness goals, bond with their family and friends and socialise with their kids. The social and health benefits add to the allure of luxury living in all senses.
Conclusion
World-class amenities offer relaxation and well-being, while cutting-edge technology appliances add to the convenience of residents. Finally, the seamless transition from indoor to outdoor living spaces allows homeowners to fully embrace their surroundings and savour the beauty of their luxurious haven.
However, finding all the modern-day opulence elements within a single project is often a quixotic quest if you do not know where to look. It is advised that you compare properties, consider your needs and consult with experts to land the right home that is the epitome of luxury living.