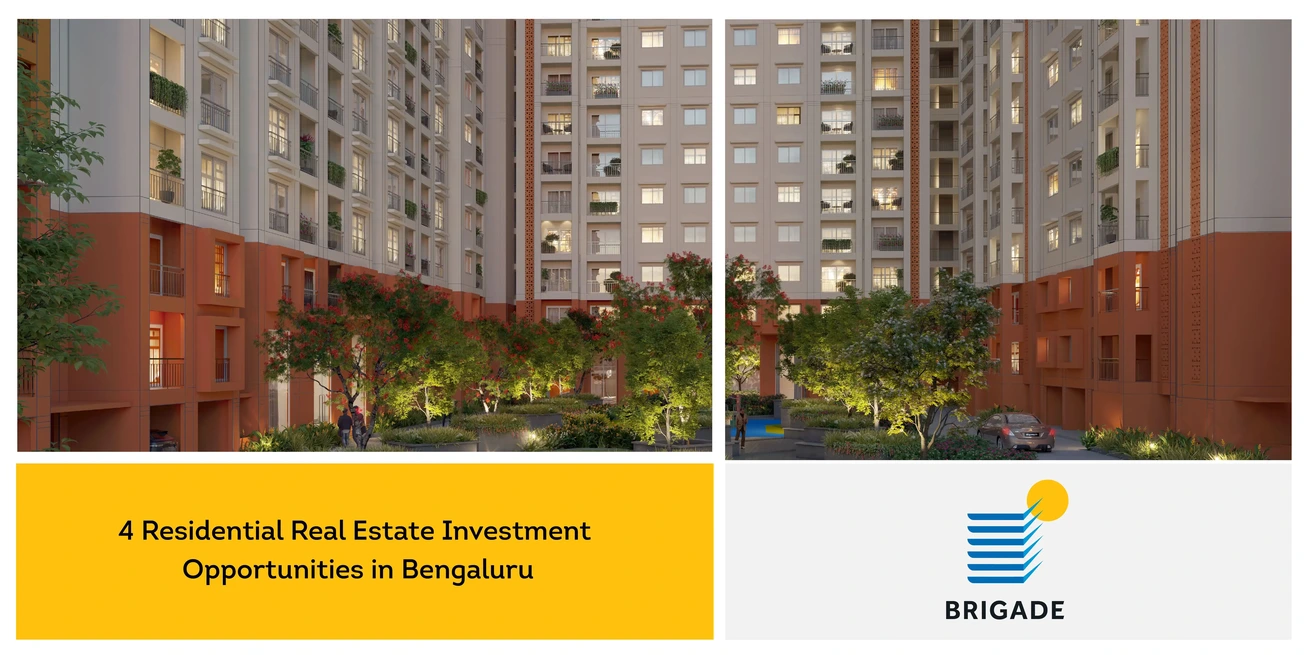 07th July 2023
4 Residential Real Estate Investment Opportunities in Bengaluru
Bengaluru holds the top spot on the priority lists of investors and home buyers alike due to its booming job opportunities, extensive infrastructural developments, cosmopolitan lifestyle, and increasing medical tourism. The city offers something for everyone, ranging from luxury apartments to affordable housing, quickly establishing Bengaluru as a leading player in the APAC region realty market.
According to the recent "India Real Estate" report published by Knight Frank, Bengaluru has registered the highest increase in housing prices at 7%, along with the largest spike in rental costs, further enhancing the city's real estate market reputation.
Millennials are motivated to invest in real estate in Bengaluru due to their search for opulent living spaces integrated with modern amenities in areas that offer excellent connectivity.
In this blog, we will explore the top 4 spots that are highly favoured as residential areas in the city:
1. Electronic City
Connectivity with the city, proximity to employment centres, a buzzing social life, and reputed educational institutions — Electronic City has everything that modern-day buyers look for in a place they can call home.
The Silk Board Junction seamlessly connects Koramangala, Madiwala, and other significant areas, making travelling incredibly convenient. Commuting becomes a breeze due to the proximity to Bannerghatta Main Road and NICE Road, as these roadways play a vital role in transporting people to major employment centres.
At the end of this year, the highly-anticipated Namma Metro Yellow Line (RV Road-Bommasandra) is set to open, providing a massive relief from the bumper-to-bumper traffic on Hosur Road. This will make it easier to commute from Electronic City to the tech hubs across the city.
Electronic City is home to renowned tech companies such as TCS, HCL Technologies, Siemens, Intel and other thriving start-ups. Living here can ensure close proximity to the numerous career growth prospects that Bangalore offers.
With a plethora of glitzy pubs, restaurants serving various cuisines and upscale shopping malls, Electronics City favours an uncompromising social life for its residents.
Brigade Valencia, a premier residential project in Electronic City, captures the essence of the vivid spirit of Valencia, a city in Spain. Spread across 24 acres, this apartment series embodies the vibrant energy and enthusiasm of the Spaniards.
2. Devanahalli
Devanahalli has recently witnessed a major real estate boom in the northeastern part of the city.
The combination of growing tech hubs, excellent connectivity, and thriving social infrastructure has made this location a top priority for both house hunters and investors.
Devanahalli stands out as a thriving hub for employment, with multiple IT parks and corporate establishments. The presence of Special Economic Zones (SEZs) supports the establishment of businesses of all sizes and industries. This makes Devanahalli an ideal destination for professionals looking for opportunities. This part of north Bangalore has a promising future, thanks to the development of a KIADB industrial area, an Aerospace Park, a Science Park, and a Financial City. These developments contribute to its status as a bright and prosperous locality.
The six-lane Bellary Road, NH 648 and NH 44 connect the neighbourhood with other parts of the city, such as Hebbal and Yelahanka, making the distance shorter and more accessible.
Located within a convenient distance, the Kempegowda International Airport is easily accessible to frequent flyers and individuals who prefer seamless airport connectivity. The ongoing development of the Namma Metro Blue Line Phase 2B will significantly reduce commuting time between Devanahalli and the airport, further enhancing the area's appeal for residents and visitors alike.
Proximity to tourist hotspots like Nandi Hills, the Grover Zampa vineyards, Devanahalli fort and others ensure that residents will never have a dull moment during weekends.
Experience the best of this location at Brigade Oasis, a series of premium residential plots opening to scenic vistas. This real estate project offers a range of amenities that cater to the preferences of every family member. These include a forest boardwalk adventure, fitness park, children's playground, clubhouse, outdoor barbecue area, and more.
3. Whitefield
The transformation of Whitefield, from a quiet small hamlet primarily for Eurasian and Anglo-Indian settlers to a vibrant hub for tech professionals, is truly awe-inspiring. This place is a thriving hive of IT and ITES hubs, reputed educational institutions, medical centres and a glitzy social life, turning it into a haven for those who seek a downtown-style living experience.
Whitefield stands out as an area with exceptional connectivity, being well-connected by road, rail, and metro, all while remaining in close proximity to Bangalore International Airport. The well-established four-lane Whitefield Road connects this area to Bengaluru city through Mahadevapura, while Varthur Road via Marathahalli ensures a seamless connection.
Construction of the Outer Ring Road (ORR), wider Peripheral Ring Road, and flyovers is currently in progress to reduce travel time for commuters.
The Kempegowda International Airport is approximately 36 km away and can be reached via SH 104, while the Whitefield and Hoodi railway stations are easily accessible.
As part of Phase 2 of Namma Metro, the Purple Line extension is set to enhance the already robust transportation network in the area. This expansion will span 13 stations, linking Byappanahalli to Whitefield. The Purple Line will extend from Whitefield in the east to Kengeri in the west, providing seamless connectivity between these locations.
Whitefield is a dream destination for careerists as it is flanked by numerous employment hubs such as RMZ Ecoworld, Brigade Tech Park and International Tech Park Bangalore (ITPL), to name a few.
The strong social infrastructure is another unique selling point that makes this area highly desirable for residents. Whitefield offers trendy shopping malls like Phoenix Market City, restaurants like Mainland China and Orbis catering to diverse culinary preferences, as well as renowned educational institutions like St. Thomas Public School and MVJ College of Engineering.
Spread over 11 acres, Brigade Calista is opulence, convenience and serenity rolled into one, making it an ideal abode for home buyers. The residential property has launched its 2nd phase after successfully completing phase 1. The apartment series has various modern amenities and shares superb connectivity with major IT hubs. Its proximity to entertainment arenas, medical centres, educational institutions and supermarkets makes life easy for residents.
4. Hebbal
Home to one of Bengaluru's oldest lakes, Hebbal has steadily gained its reputation as a favourable residential destination. Pleasant weather, burgeoning commercial activities and excellent connectivity have augmented the real estate value of this place.
Bellary Road, Hebbal Flyover and ORR (NH 44) are significant roadways that make Hebbal accessible to various parts of Bengaluru. This neighbourhood benefits from convenient transportation options such as Hebbal Railway Station and buses operated by the Bangalore Metropolitan Transport Corporation (BMTC). The Kempegowda International Airport is about 27 km away, while the Krantivira Sangolli Rayanna Railway Station is conveniently located at an estimated distance of 11 km via Bellary Road.
A well-developed infrastructure is a critical factor that contributes to Hebbal's appeal as an ideal real estate investment. This area boasts excellent civic amenities, including top-notch educational institutions, healthcare facilities, shopping centres and entertainment options.
The presence of numerous IT parks and business centres in the vicinity has attracted professionals and entrepreneurs, making it a thriving hub for employment opportunities.
Hebbal is known for its tranquil environment, making it a refreshing retreat from the din and bustle of regular city life. Abundant green spaces, parks and lakes treat residents with a sense of rejuvenation. Living amidst such natural beauty fosters a healthier lifestyle and promotes overall well-being.
Nestled in the vibrant neighbourhood, off Hebbal, is Brigade Laguna, a luxurious apartment enclave overlooking the 125-acre Rachenahalli lake. The gated community lakeside residence has top-notch amenities and provides scopes for recreational activities like barbeque or picnics by the lake.
Conclusion
Choosing the right area for real estate investment in Bengaluru can be tricky, with so many options at your disposal. But deciding which location is more suitable for you should be pretty straightforward — all you need to do is find out which neighbourhood aligns most closely with your lifestyle expectations and preferences and then decide from there.