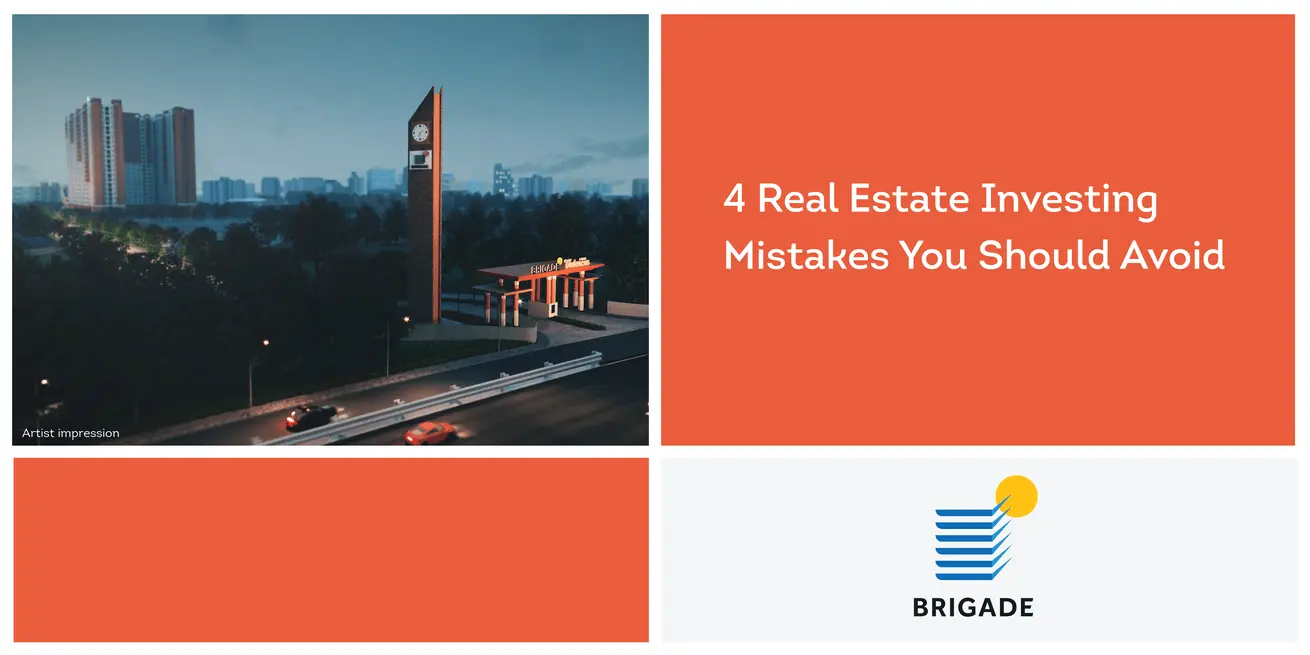 25th October 2023
4 Residential Real Estate Investment Opportunities in Bengaluru
Real estate investment is one of the most lucrative and safe options worldwide, thanks to the higher prospects of returns. However, disposing of properties like a land or an apartment is lengthy and cumbersome compared to movable assets when they no longer suit your long-term needs.
It is crucial that you make careful deliberations before you invest in a property. Even a minor oversight, like a misspelt name in the sales deed, can lead to unexpected legal disputes down the road. There is no space for rookie errors in real estate as transactions involve a considerable capital investment, probably your life-long savings.
This blog will highlight the top four real estate investing mistakes you must avoid to secure better returns in the long run.
1. Lack of Proper Research
The prospect of making the best real estate investment hinges on the quality of research you have conducted on the property you are eyeing. Unfortunately, a sizable population among homebuyers tend to underestimate this aspect.
Analysing market conditions and thoroughly researching property rates in the location you have earmarked is essential. You might fall victim to brokers or fraudulent agents without proper market knowledge. Once you shortlist properties, assess factors like location benefits, land value, rental demand, road connectivity, nearby amenities, builder reputation and more. Neglecting issues such as water supply, air pollution, transportation and civic amenities can impact your investment negatively.
2. Improper Evaluation of Financial Evaluation
The idiom do not bite more than you can chew is applicable when you plan to invest in real estate. Investing in a property beyond your cash flow capability is one of the rookie investing mistakes you cannot afford.
Assessing your finances is paramount when considering a new investment. There are hidden costs in property purchases beyond major expenses like property costs, taxes and registration fees for a house purchase. These unforeseen charges factor in maintenance, furnishing, repairs and utility charges.
Create a detailed expense list to ensure affordability. If considering a home loan, consult with a bank to determine eligibility. A high credit score (700 or above) enhances loan prospects with lower interest rates and extended repayment terms, bolstering credibility. If you aspire to invest in a property that compels to stretch your budget, consider creating a sound career plan. You may want to focus on advancing in your organisation's hierarchy to expand your income potential and help you steer clear of unexpected financial challenges.
3. Inadequate Research About the Builder
You might face the choice between a lesser-known developer offering attractive discounts and a well-established realty group guaranteeing a secure investment. We advise opting for the latter.
A reputable real estate brand will obtain all necessary legal permits and property sale documents. They prioritise RERA (Real Estate Regulation and Development) Act approval for transparency. Additionally, an experienced developer strives for customer satisfaction, ensuring high-quality construction and excellent service. Research their website, social media and projects for insights. Seek feedback from previous buyers to assess the builder's reputation to avoid costly mistakes.
4. Incorrect Choice of Property
After deciding on a residential property investment, choosing the property type—a villa or a gated community is crucial. New investors often overlook this aspect due to limited market knowledge. However, selecting the wrong property can jeopardise your investment.
Opt for locations with high demand and easy access to amenities. On that note, it is worthwhile to mention that outskirts like in Bengaluru city have emerged as prime real estate investment options for various reasons, including affordability, infrastructure development and a higher quality of life.
Properties in such rapidly developing locations with in-house amenities and civic facilities offer good resale value and returns. Depending on your budget and goals, shortlist properties and consult a trusted property advisor for guidance.
If a luxurious gated community is on your mind, Brigade Valencia is a great choice. The residential project near Electronic City captures the vibrant Spanish spirit in its interior and exterior decor. Spanning almost 24 acres, the apartment complex features top-notch amenities to facilitate an opulent and functional lifestyle for residents.
Conclusion
Real estate investing offers the potential for significant financial rewards, but it is essential to navigate the market wisely and avoid common pitfalls. By conducting thorough due diligence, staying within your budget, prioritising location and market trends and partnering with a credible builder, you can set yourself up for success in real estate investing.